It's a well known fact that worker termites feed the rest of the colony. Nature made it so that only the worker termite caste can digest timber or (timber products) by the use of symbiotic protozoa in their gut. The worker termites digest and then regurgitate the partly digested timber as a semi-liquid food for the other termite castes. Not only that, even the workers' excrete is eaten by other termite castes as it is high in cellulose content. This feeding by mouth and anus is technically known as trophallaxis.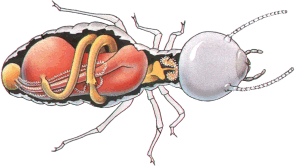 This finding has enabled modern termite control products to take advantage of the mutual feeding and regular grooming habits of termites, as a means to effectively eliminate the entire colony. Worker termites readily ingest the bait and transport it back to the colony nest to feed other termites. If sufficient workers ingest the bait and the queen is killed, then the collapse and death of the colony is highly probable.
The latest termite baiting system also takes advantage of the fact that worker termites cannibalise other dead termites. Therefore if the dead termites carry the bait material in their system, this will further hasten the demise of the colony.